Your Feet Deserve Better
We specialise in the manufacture of precision custom made Foot Orthotics via CADCAM technology.
Foot Orthotics, commonly known as "insoles", are devices that fit inside your shoes to help stabilise and correct poor foot posture.

Providing orthotics clinically under Massons Healthcare's clinical division "Orthotics Australia", we consider ourselves to be one of the market leaders in the manufacture of EVA foam based foot orthotics. Your Clinical Orthotist will start and follow the treatment all the way from casting through to cast modifications, manufacture, fitting and review of the foot orthotics. We are one of the few facilities that manufactures all our custom made foot orthotics in-house.

Each foot is an engineering masterpiece. The foot is made up of 26 bones, 33 joints and more than 100 muscles, tendons and ligaments. We tend to take this for granted until something goes wrong or we develop pain. Biomechanical problems affecting the feet can increase stresses within the foot structures and the surrounding soft tissues, creating localised pain in the foot, ankle and also problems in the knees, hips and back. Correction of poor foot biomechanics with Foot Orthotics can improve and prevent many types of symptoms such as:
• &nbspForefoot Pain (Metatarsalgia )
• &nbspArch Strain (Plantar Fasciitis)
• &nbspPoliceman's Heel (Heel Spur)
• &nbspAnkle Pain (Tibialis Dysfunction, Lateral Impingement Syndrome)
• &nbspShin Pain (Compartmental Syndrome, Shin Splints)
• &nbspKnee Pain (Chondramalcia Patella, Patella Tibial Syndrome)

The aim of Foot Orthotics is to correct dysfunctional biomechanics and therefore:
• &nbspReduce pain
• &nbspProvide support
• &nbspPrevent or halt the development of foot deformity
• &nbspProvide better positioning
• &nbspRelieve pressure on a certain area of the foot
• &nbspImprove the overall biomechanical function of the foot
• &nbspImprove pelvic alignment
• &nbspReduce lower limb torsion and knee stress

At Orthotics Australia we believe in a holistic approach to any biomechanical problem, and we understand that the underlying problem may not always be located around the area of the body that develops the symptoms. In some cases the problem may lie in a number of areas, such as poor posture, pelvic malalignment, leg length discrepancies, tight or poorly toned muscles.

Carbon fibre and polypropylene foot orthotics can be made upon request, however we recommend our EVA technology and can fine tune these orthotics even further in the two months after you receive them. We understand that custom made orthotics are not for everyone and have a great range of prefabricated, off the shelf foot orthotics available, which can be fitted by our staff and adjusted if required.

If we do not feel that your problem is caused primarily by your foot position or poor biomechanics, we will not prescribe you any Foot Orthotics.

We have simply classified our Foot Orthotics into different styles:

CARE, COMFORT, PERFORMANCE, HIGH RISK FEET, and DRESS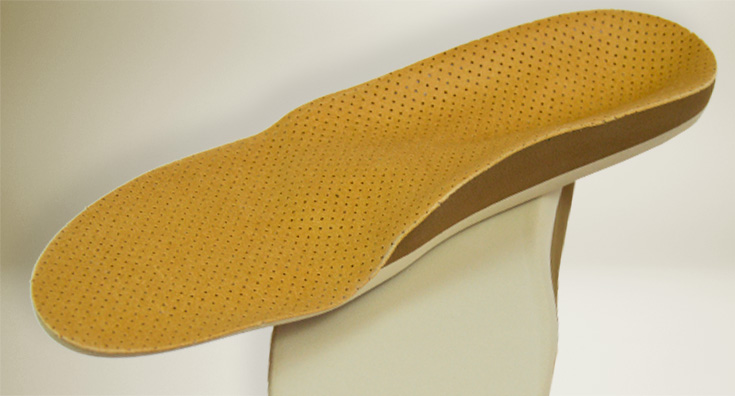 EVA Care: Insoldes designed for extra comfort and foot pain relief
The CARE Custom EVA insoles are designed to give extra comfort and relieve foot pain. If you need
to make an insole that offloads foot pressure and pressure peaks, in combination with extra
cushioning or medical diabetic application, this is your orthotic type.
Two ultra-soft EVA layers: stabilizing top layer of 30sh with an extra cushioning bottom layer of 20sh.



EVA Comfort : Insoles designed for all day comfort
The COMFORT Custom EVA insoles take the energy generated from your hips and legs and disperses it forward producing maximum efficiency and performance. This COMFORT type is the most used custom foot orthotic device; a real all-round insole that is made out of high quality dual medium density EVA insole material. Two-shore EVA layers: stabilizing top layer of 40sh with a comfort cushioning bottom layer of 25sh.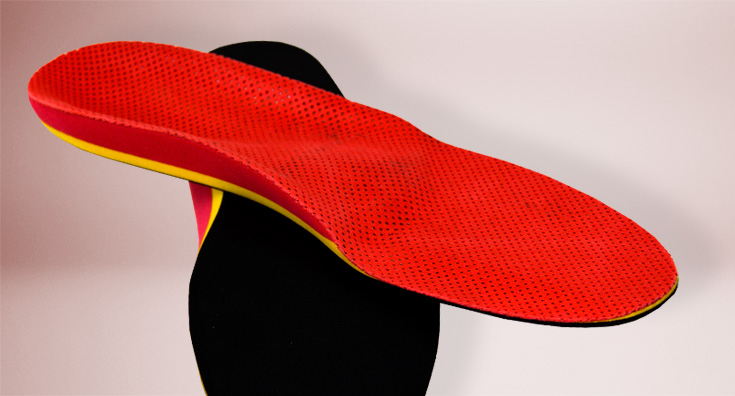 EVA Performance: Insoles targeted to performance athletes
The PERFORMANCE Custom EVA insoles are our high-end sport foot orthotics line. They are designed to work with shoes where total control is the goal. Using a denser EVA combination allows the insoles
to transfer the power output rather than absorbing it. EVA Insoles are made out of high quality Tri-layer firm EVA insole material. Three-shore EVA layers: foot fixating top layer of 50sh, a shock impact damping mid layer of 30sh and a rigid 60sh bottom layer to give the basis stiffness.